Zipper Tote Bag - The Milky way
Regular price

Rs. 599

Sale price

Rs. 399
Ever feel the blues of not being able to wander? Believe it or not, our milky way is constantly in motion! Our galaxy is estimated to be moving at about 2.2 million km/hr! (good to keep a tote handy when you're on the galaxy move!)
Description
DETAILS & DIMENSIONS
SUSTAINABILITY
WASHCARE & MAINTENANCE
FREE SHIPPING & RETURNS
Share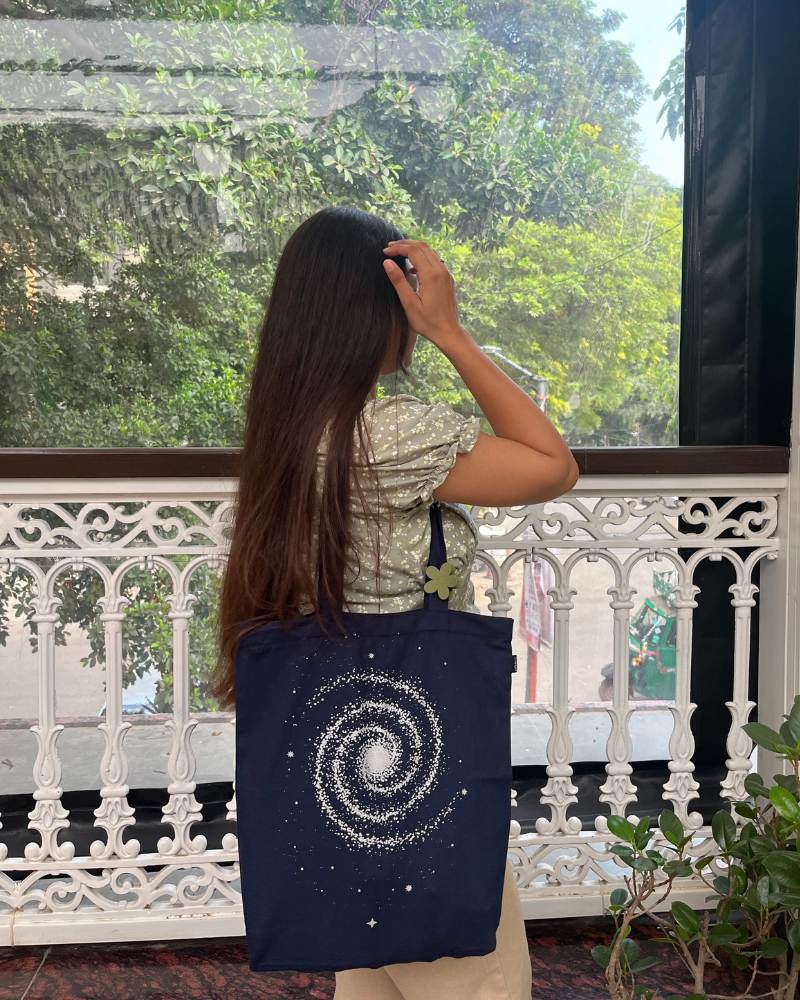 Better for you, better for the planet
A material difference

We like materials with a conscience that are good for you and the planet. Organic Cotton, Recycled Plastic, Jute and Biopolymers are sustainable, fun, and versatile materials. All our inks, dyes, and packaging are also environmentally friendly.

Read more

Everyday is Sun day!

We are powered by the sun (quite literally)! We use solar energy to power our facilities, which keeps us away from fossil fuels which is a total win-win! We also practice rainwater harvesting, so that not a drop of rain goes to waste. This makes us happy.

Read more

Made by Happy Humans

Each EcoRight product is crafted with love in certified ethical facilities. This means equal opportunities, fair wages, up skilling opportunities and high levels of safety. Our facilities are certified SEDEX (4 pillar), FairTrade, Organic and Recycled.

Read more
Unlocking EcoRight Secrets: FAQs
What materials are used in the EcoRight tote bags, and are they sustainable?

EcoRight tote bags are crafted using sustainable and eco-friendly materials, each cotton tote bag is made with 100% organic cotton. These environmentally friendly tote bags contribute to reducing plastic waste and are designed to be long-lasting and reusable, making them a great alternative to single-use plastic bags.
How do I care for my reusable eco-friendly tote bag to ensure its longevity?

To properly care for your EcoRight fabric tote bag, follow these simple steps: wash it in cold water on a gentle cycle, using mild detergent. Avoid using bleach or fabric softeners. After washing, air dry the tote bag. Regular care will help maintain the bag's durability, shape, and appearance, keeping it functional and stylish for a long time.
Can I customize my EcoRight tote bag with my own designs or logos?

Yes, EcoRight offers customization options for their tote bags, allowing you to add your own personal touch, such as custom designs, logos, or text. This makes their sustainable canvas tote bags perfect for promotional events, gifts, or personal use. To inquire about the customization process and options available, visit the bulk inquiry page or contact us on help@ecoright.com
What are the various uses for an environmentally friendly tote bag, and how does it contribute to a greener lifestyle?

EcoRight tote bags are versatile and can be used for various purposes, such as grocery shopping, carrying books, gym essentials, beach items, or even as everyday bag. By using a reusable eco-friendly tote bag, you reduce the need for single-use plastic bags, which helps lower plastic waste and contributes to a more sustainable, greener lifestyle.
Testimonials
Absolutely loved the concept and brand philosophy behind this design. EcoRight : Job well done. 😊 Sustainable fashion is all the rage at the moment and through this design, this brand  highlights their "WHY" seamlessly.

Sulagna

The bag is really amazing and the quality is super nice absolutely love it thank you so much ❤

Zubishah

Excellent Product with soft material and elegant looking case, fits my iphone12 pro max perfectly!

Sree

I was looking for something exactly like this. It's the right shade of color pop and design. Extra points for being completely recycled. I'm taking it for my next trip and I'm so excited.

Sneha Yadav

I really loved the product.. Nice quality and print is too good It goes with all my outfits worth the money

Riya Aysha
Express yourself with #ecoright